Every successful business has some very crucial milestones along the way. We invite you to take a tour through the history of PPLI and describe the most important milestones in its past.
First and only licensed waste management facility in Indonesia
Acquired by MAEH group
MAEH 95% : BUMN 5%
Succesful Turnaround and Commencement of Capacity Upgrade to improve facilities and increase capacity
Significant Capital Investment
Capacity Upgrade completed
Collection Depots and Transfer Stations in strategic geographic locations across Indonesia
Improved Services and Additional Service
MAEH acquired by DOWA Eco System
Dowa Eco System Co. Ltd. Is a subsidiary company of Dowa Holdings Co. Ltd.
Established in October 2006 in order to focus more specifically on Environmental Management & Recycling. Dowa was originally established in Japan in 1884 as a mining & metal smelting/ refining company.
Development of Facilities and Capabilities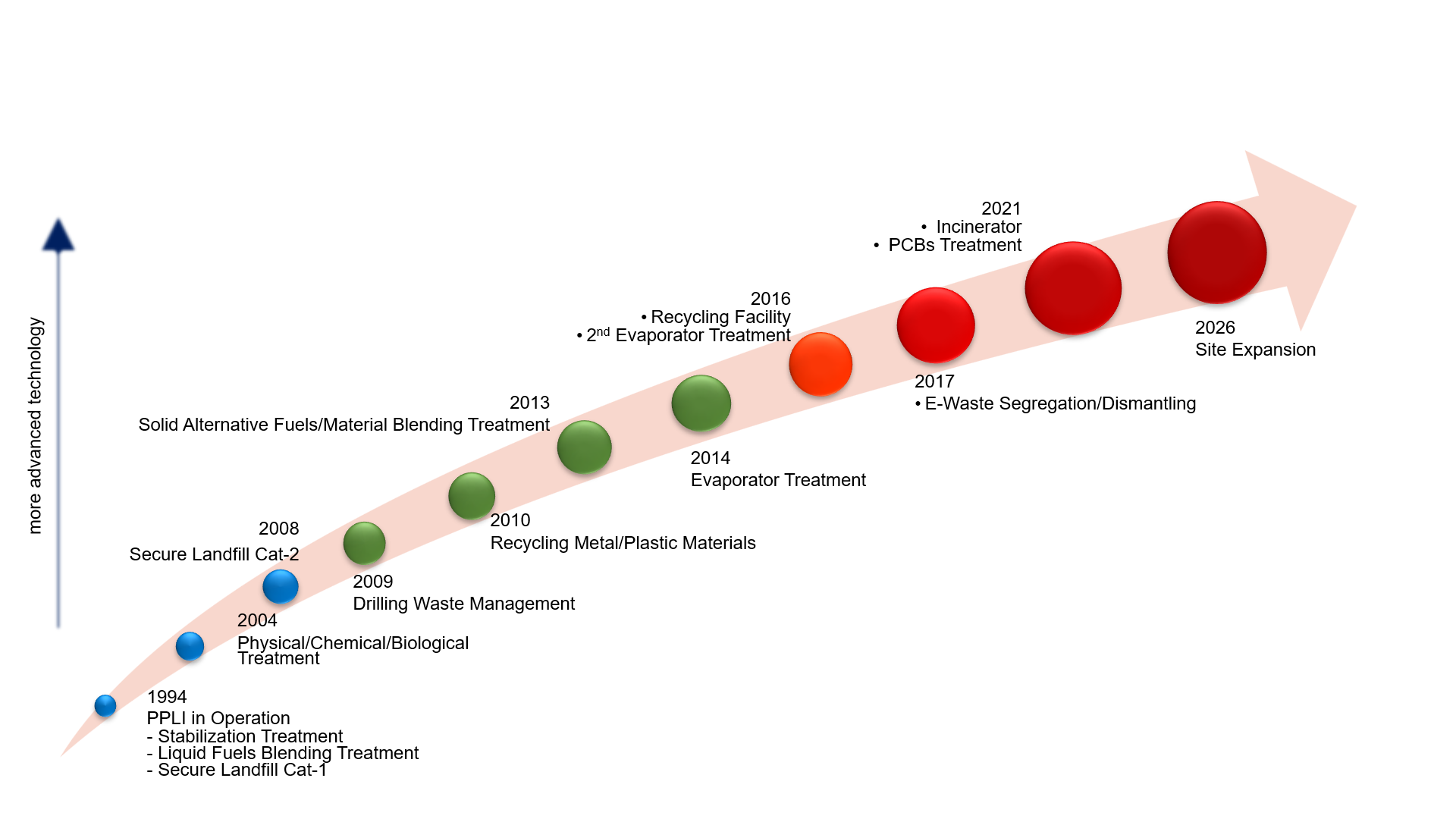 Stabilization Treatment
Liquid Fuels Blending Treatment
Secure Landfill Cat-1
1 of 11
Physical/Chemical/Biological Treatment

2 of 11
Secure Landfill Cat-2

3 of 11
Drilling Waste Management
4 of 11
Recycling Metal/Plastic Materials

5 of 11
Solid Alternative Fuels/Material Blending Treatment

6 of 11
Evaporator Treatment

7 of 11
Recycling Facility
2nd Evaporator Treatment
8 of 11
E-Waste Segregation/Dismantling

9 of 11
Incinerator
PCBs Treatment
10 of 11
Site Expansion

11 of 11